Power Curber 5700-C:
New MAX package
Think the 5700-C isn't big enough to handle your work? Consider adding the MAX Package to upgrade the capabilities of the machine. This outfits the machine with larger crawlers, all crawler steering, a secondary mounting location for the rear post, and more.
MAX package features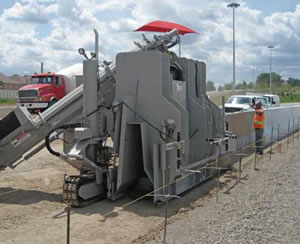 The MAX package includes larger crawlers, all crawler steering, and a secondary mounting location for the rear post. Additional features include low speed crawler torque hubs and three extra vibrator circuits (9 total).
These features allow pouring large barrier up to 2.5m high, paving up to 3.65m wide, variable barrier with up to 610mm variability, and other large profile applications.
The picture (right) shows a 5700C with a MAX package, pouring a large variable barrier wall.
Crawlers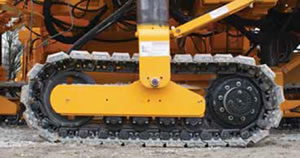 Crawlers on the 5700-C-MAX are 305mm longer, heavier, and have an additional roller. This keeps the machine stable even with very large molds and the low speed crawler torque hubs keep the machine pouring at a steady crawl.
All Crawler Steering, a long-time option on the 5700-C, improves steering accuracy when paving, pouring large walls, and in other demanding applications. Our network control system is included for the coordinated steering.
The picture (right) shows 5700C with MAX package crawlers with polyurethane pads.
Rear post secondary mounting
The MAX Package includes a secondary mounting location to allow contractors to bring the rear post forward. This changes the machine's geometry and redistributes the weight, improving the machine's performance when using large barrier molds and when paving in the center-pour position. Dual side pouring and our other optional accessories are available to go with the Max package.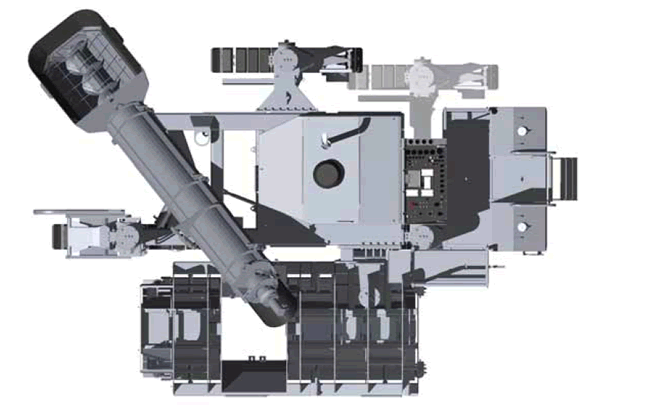 The picture above shows the 5700C with a large variable barrier mould. The moveable crawler / post is shown in both positions (top right of image) with the muted post is in the standard position, with the darker post is shown in the secondary forward position.
The picture below shows the 5700C with post in forward position, and dual side pouring option working off the right.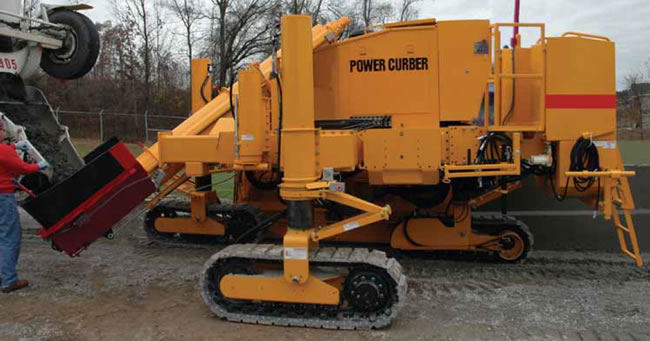 Back to curb and gutter work
When you've completed the job with your 5700-C-MAX and want to return to curb and gutter work, the rear post is moved back to its standard position. The machine then turns a 610mm radius as always and maintains its 2.6m transport width in the standard configuration with curb and gutter mold.