Power Curber 5700-C: Curb and Barrier Moulds
Our range of custom moulds make your Power Curber 5700-C one machine for multiple uses. Curb and gutter, motorway barriers, variable barriers, drainage, steps, tight radius islands and more, all available with our quick connect mould mount to change jobs quickly.
Quick Connect Mold Mount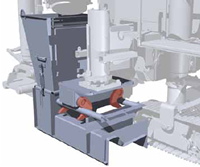 Our most popular optional feature, the patented quick connect mold mount, allows you to change molds in as little as five minutes. The hydraulically activated hooks release one mold and grab the next one with little manual work.
For contractors changing molds often on jobsites, or going from one application to another in the same day, our quick connect makes the job quick and easy. In addition to picking up the mold, it automatically aligns the mold and locks it securely in place.
Variable Barrier Molds - for Motorwary barriers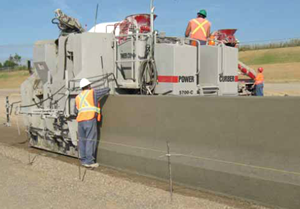 Contractors pouring motorway barriers with super-elevations love the ability of the 5700-C to tackle these walls.
The 5700-C pours with variable barrier molds typically weighing between 3630-4535kg and with up to 610mm of variability.
Hydraulic Mold Offset Lock
After using the hydraulic adjustable offset to position your mold, the optional hydraulic mold offset lock enables you, at the flip of a switch, to lock the offset rigidly to the machine. Firmly locking the mold to the machine eliminates play in the mold which can affect the finished product. The standard is a manual mechanical lock.
Radius Work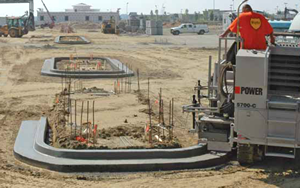 Pour islands as tight as 2' (610mm). Our tight radius abilities make the 5700-C ideal for parking lot islands. Eliminating days of hand labor in large retail parking lots, the 5700-C can handle the narrowest of parking lot islands. For work in areas with less extreme radii the optional hydraulic front grade sensor arm allows the front sensor to stay on line without manual adjustment.
Mold Options
Our curb and gutter molds can be built with a variety of options to give you added flexibility on the jobsite. Options include block-outs for varying the curb width, extensions for varying the curb height, and removable side-plates for pouring adjacent to existing pavement.
For pouring through driveway cuts, we offer two options of labor and concrete saving driveway knives. One uses a rotating plate, while the other uses a side-entry tapered plate that reduces hand finishing on top of the curb.
Barrier and parapet moulds
Though Power Curbers have poured barrier wall for decades, the evolution of the 5700-C has allowed us to pour larger barrier than ever before. In addition to standard Jersey barrier, the 5700-C pours variable barrier and other vertical structures for tunnels and high speed rail. The low center of gravity and size-to-weight ratio makesthe 5700-C ideal for barrier and parapet.
Barrier Mold Lift
At the end of a day's pour, the hydraulic barrier mold lift allows you to raise the mold up and off the steel cage. With 610mm of stroke in the mold lift and 914mm of post extension the 5700-C can clear tall steel cages, allowing you to quickly move the machine out of traffic for cleanup and until the next day's pour.
All-Crawler Steering
Some contractors find that when pouring large wall or wall adjacent to an existing structure, our all-crawler steering option is an added benefit. In these large applications, coordinating the steering of all the crawlers can enhance the machine's performance.
Parapet Sensor Mount
Like barrier, the 5700-C pours bridge parapet in a variety of configurations. To help set-up for parapet pours, Power Curbers offers a parapet sensor mounting kit and weighted, free-standing stringline stations.
Contact us to talk about the options available for mould designs